When NFL owners are reeling from a long stretch of substandard performance, one of the tried and true moves from an optical standpoint is the offseason visit to championship franchises in other sports. It is, essentially, a crash course in how to not be Dan Snyder, or Dan Snyder Lite. Sometimes it works. Sometimes it doesn't.
But for owners of miserable NFL franchises at the moment, we have a recommendation that will save them the plane fare and the public embarrassment of having to attend competency school: Watch the Miami Heat.
The Heat, which continue a quest to become the first No. 8 seed in NBA history to win a championship with Game 1 of the Finals on Thursday night, have been, perpetually, one of the best franchises in the league, missing the playoffs just six times since 2000. But it has been their reinvention since the teardown of the LeBron James–Dwyane Wade–Chris Bosh superteam that is especially relevant for poorly performing NFL franchises at a time when true superstar talent is harder to come by (more on that in a second). This finals run in particular, as surprising as it's been, has highlighted the true foundations of their organization.
The Heat are the best team in NBA history at utilizing undrafted free agents, according to ESPN Stats and Information. Despite the presence of one bona fide superstar in Jimmy Butler, much of their heft comes from a defined standard in talent evaluation. This allows them to pluck a sixth man out of the Big Ten, for example, or, in the context of this year's playoffs, get superstar-caliber production and minutes out of Caleb Martin, a 27-year-old who is not unfamiliar with the locker room of the Sioux Falls Skyforce (the Heat's developmental league team).
They are also one of the most revered teams when it comes to developing players at an individual level and fostering growth, and game-planning for those players' unique strengths while strategically hiding their weaknesses.
One would think this is hard to accomplish at the NFL level, but almost all of the league's consistently great teams are clinging to some version of this blueprint. For the best part of the Patriots dynasty, we saw New England's unique player valuation system churn out a handful of heavily undervalued players who ended up struggling to succeed elsewhere (and I could make the argument fairly easily that Tom Brady fit into that unique player valuation system, and began as a product of defined evaluatory standards).
The Seahawks would send out brochures to undrafted free agents touting their history of mid-to-late-round draft picks and undrafted players, promising to evaluate them by the same standard as higher draft picks (and would actually follow through on cutting more highly drafted talent, thus fostering a legitimately competitive atmosphere focused on improvement).
The Eagles' offensive and defensive game plans are hyperconsiderate of player strengths and weaknesses. Jalen Hurts was put in better presnap conditions than any quarterback in football during his breakout year, which allowed him to utilize some of his most notable traits, like a mind that is both photographic and creative, able to memorize a defensive look and manipulate it to his advantage once he sees what he is looking for.
The Bengals, despite being lampooned for their paltry scouting staff, have one of the most intimate connections between what coaches actually need and what personnel executives actually provide for them in the NFL.
The Heat have been able to tie all of these together consistently and without a kind of franchise-numbing lull that most NFL teams require before getting themselves to a plateau of sustained relevance (here's a good story about how they found Duncan Robinson, for example). For an owner looking to improve, they offer the best of all worlds in one small package.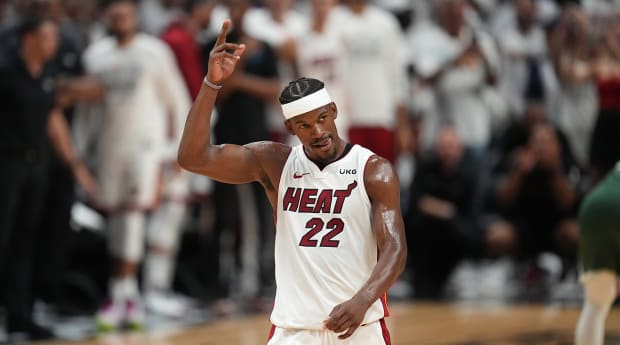 NFL owners hoping to recreate the Heat plan could follow a simple multistep process: Hire a head coach who cares about people. Hire assistant coaches with a proven track record in accentuating underutilized talent and have a neutral, schematic expert on hand to drill the assistants on how they've accomplished this in the past, and how they might with a new team. Have a personnel staff that is familiar with the coaching staff, tied to them contractually without the ability to go rogue and make picks that are more easily explainable for future job purposes. Hold all of these people accountable regularly.
Searching for this organizational harmony is especially relevant now, at a time when it feels like superstar talent is more scarce than ever. As we noted, the Heat have one player we would uniformly consider a superstar, but they are succeeding at a point where the superteam seems to be getting phased out and are better positioned in this era moving forward.
My thought is that access to training, knowledge and opportunity has never been better in sports. So, too, is the understanding of how to maximize point scoring in most professional sports. The gap between a perceived role player and an undeniable superstar has been closing, which elevates the criteria for someone to become a generational talent (thus making it more uncommon). From a football perspective, there will surely be another Patrick Mahomes or Josh Allen at some point, but how long does a team have to wait for them to come around, and what can it do in the meantime to succeed without one?
There exists this opportunity to build something that can be sustainably great, or wait around for a player who is so undeniably great that he or she lifts all other boats (a flawed ideology given how likely it is for a player to sustain an injury, age out or burn out). The 49ers took a massive swing at the quarterback position by drafting Trey Lance a few years ago, but hedged that risk by having a standard of quarterback play they adhered to. Brock Purdy to the rescue. This is not unlike how the Heat had so much layered depth that it backstopped some of their free-agency miscues, draft mistakes or the hangover for when their conditions are ripe to acquire multiple superstar-type players (which you should still try to do, by the way).
There will always be great players and, especially in the NFL, bad franchises that consistently luck themselves into them. But the time is coming when a growing homogeneity will ultimately spotlight not just the work done by the player or the coach, but by the organization itself (read: the owner). Turning on the NBA Finals is a good way to get ahead of that potential crisis without leaving the couch on your luxury yacht.