MLB commissioner Rob Manfred said Wednesday that the league will take over local broadcasts in the event that baseball's primary cable home is unable to make its payments to the clubs, a fairly dry bit of maneuvering that could end with seismic change to the way fans watch games.
On Wednesday morning, the parent company of Bally Regional Sports networks, which combine to broadcast games for 42 professional sports teams, including 14 MLB teams, announced that it will miss a scheduled $140 million interest payment, which could be a first step in a bankruptcy proceeding.
Diamond Sports Group's announcement triggers a 30-day grace period during which it can negotiate with the creditors to whom it owes the money. It has not yet missed payments to teams. (Diamond carriers Diamondbacks, Atlanta, Reds, Guardians, Tigers, Royals, Angels, Marlins, Brewers, Twins, Cardinals, Padres, Rays and Rangers games.) In a statement, Diamond said it "expects that its business will continue as usual, and it will keep broadcasting quality live sports productions for fans while it addresses its balance sheet." As of Sept. 30, Diamond, which is owned by Sinclair Broadcasting, said it had debt of $8.674 billion. According to the Associated Press, it owes nearly $1 billion in rights fees to teams in the first quarter of 2023.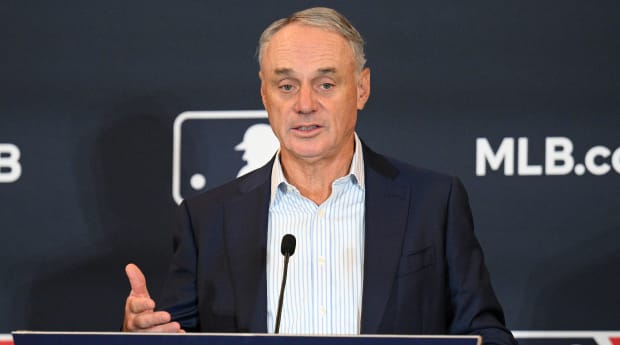 Manfred said that his first choice would be that Diamond make its payments to teams. But MLB is prepared to produce and broadcast the games, Manfred said, "both linear in the traditional cable bundle and digitally on our own platforms."
If the carrier defaults, Manfred said, the league would terminate the agreements with Diamond and take over the rights. It would then try to sell them to a distributor directly but—and here is where it could get interesting—might try to negotiate a deal that would prevent blackouts. As it stands now, networks pay for exclusivity—if the Cardinals game is on Bally Sports Midwest, that means fans in St. Louis without cable cannot watch it on MLB.tv. That would be good for fans. But the distributors pay such high rights fees—the primary revenue source for baseball—precisely because the broadcasts are exclusive, making this plan somewhat of a long shot.
"I think it's really important for the game to preserve the economics in the remaining RSN cable bundle while developing a digital alternative that has more flexibility," said Manfred. "It gives us a better reach in terms of getting the fans who want to watch and don't have the ability to watch."
MLB has a clearer path than ever before to giving them that option.