For all the drama the Browns have had over the years, they at least had Nick Chubb. A pillar for the organization since he entered the league five years ago, the running back has provided support in more ways than one, from his leadership to his rugged running style that's respected throughout Cleveland and across the NFL.
Cleveland took a gut punch after Chubb was carted off the field with a severe leg injury early in the second quarter of Monday night's game against the Steelers. The Pittsburgh crowd collectively gasped after watching the replay, but they made sure to express their support for the four-time Pro Bowler by chanting "Chubb" as he left the field. Head coach Kevin Stefanski announced after the game that Chubb would miss the rest of the season.
There might not be a more physical offensive player in the league other than Titans running back Derrick Henry, and he too was devastated by Chubb's injury, posting heart broken emojis on his social media account.
With Chubb sidelined, the Browns lost more than a Monday Night Football game against the Steelers, who prevailed 26–22. They lost their nucleus offensively. His absence will drastically impact Cleveland's season and force Deshaun Watson to finally play up to the five-year, fully-guaranteed $230 million contract he signed last year.
Watson stepped up at times in the fourth quarter with a few impressive throws, but he had another rocky performance, including a lost fumble that T.J. Watt scooped for a 17-yard touchdown return with 6:58 left in the fourth that proved to be the game-winning score. Watson also had an opportunity for a come-from-behind, game-winning touchdown drive in the final minutes, but the Browns turned the ball over on downs on Pittsburgh's 49-yard line. There was, however, a missed defensive pass interference on Watson's final throw.
The two AFC North squads are 1–1 with inconsistent quarterbacks—Kenny Pickett would have had an uglier stat line had he not found George Pickens for a 71-yard touchdown in the first half. Pickett finished 15-of-30 for 222 yards, one touchdown and one interception. Watson completed 22-of-40 passes for 235 yards, one touchdown and one interception.
Both teams also have dominant defenses to lean on and could possibly push for wild-card spots, but they might not have enough offensively to compete with the undefeated Ravens and winless Cincinnati in the division. Yes, the Bengals are 0–2, but they have Joe Burrow and have proven before they can overcome slow starts, winning 12 of their final 14 games last season.
The Steelers, however, might be in better shape (despite their offensive struggles) because they have coach Mike Tomlin, who hasn't had a losing record since taking over in Pittsburgh in 2007. The Browns, meanwhile, no longer have their consistent presence with Chubb sidelined—he has a career average of 5.3 yards per carry.
Watson has struggled since he joined the Browns last season, but he didn't need to have the type of performances that made him a star with the Texans because Chubb was around to break tackles and provide lengthy scampers. Watson was asked to make a few plays to allow Chubb to see more running lanes with a balanced attack, as if Watson is a second-year quarterback being asked to do the bare minimum to limit the growing pains.
Pickett is actually in his second year in the league, and he committed many mistakes against Cleveland's stout defense. Watson missed a handful of throws, and he's a three-time Pro Bowler who was once viewed as a top-five quarterback after he took the league by storm as a rookie first-round pick in 2017.
The Browns made their bed when they embarrassed themselves by doing whatever it took to sign Watson, despite facing more than two dozen lawsuits at the time, detailing graphic accounts of sexual harrassment and sexual assault. Watson was suspended the first 11 games of last season for sexual misconduct.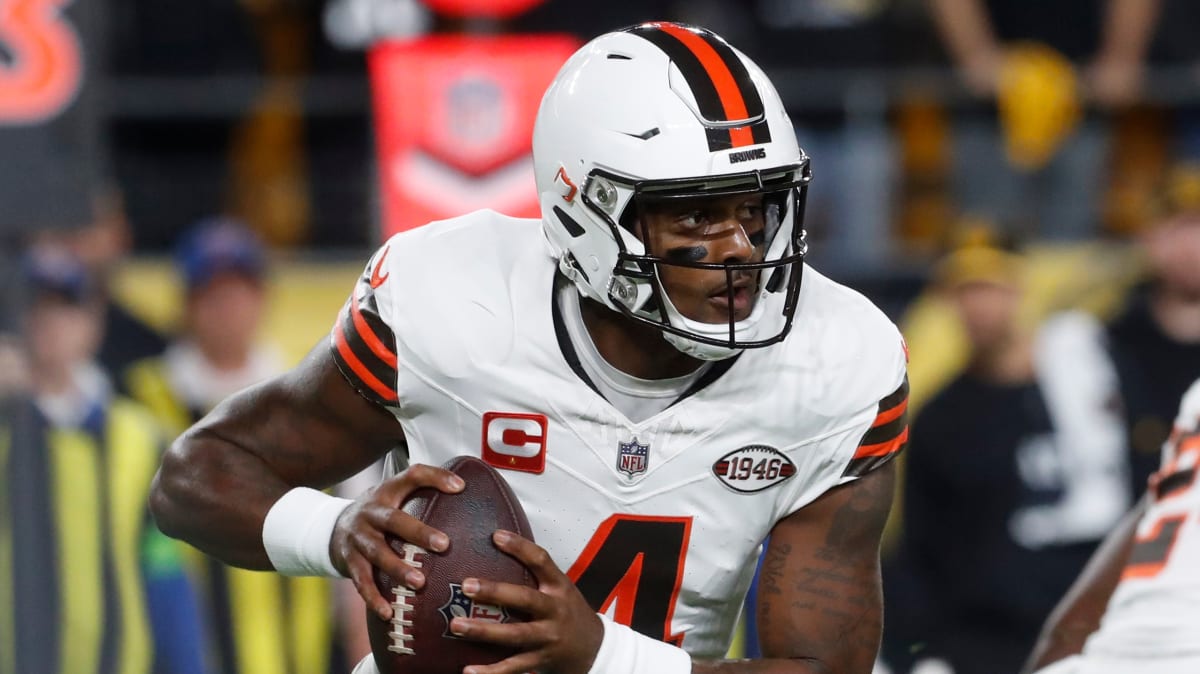 Since returning, Watson hasn't been the same quarterback—he only completed 10-of-21 passes (47.6%) for 102 yards, one touchdown and one interception during the first half against the Steelers.
The Browns had a dreadful start with a pick-six on the opening drive and a missed field goal on the third drive. On the first play of the game, Watson's pass went off the fingertips of Harrison Bryant, who managed to prevent safety Minkah Fitzpatrick from catching the ball, but the second bounce found edge rusher Alex Highsmith, who returned the interception 30 yards for the touchdown.
The Steelers' offense only ran six plays in the first quarter, including a head-scratching interception from Pickett, who failed to see safety Grant Delpit on the slant to Pickens.
But Pickett's best throw Monday night was the 71-yard touchdown pass to Pickens to give the Steelers a 16–11 lead in the second quarter. Pickett stood in the pocket and rifled the pass to the middle of the field before taking a massive hit from nose tackle Dalvin Tomlinson.
Pickett has shown flashes at times, and flashes are OK for a second-year quarterback, not for a quarterback as established as Watson. The Browns are going to need a whole lot more from Watson if they plan to keep pace in the AFC North without Chubb this season.