What's easier to learn, knitting or crocheting?
Both knitting and crocheting are skills that use balls of yarn to craft items by hand. Some beginners enjoy the greater control they have when knitting with two needles, while others prefer the greater freedom that comes from crocheting. Many knitters also learn to crochet because the crochet stitches make neater edges on knitted clothing.
What is knitting?
Knitting is done with two active hands and two long, slender needles. You use one needle to scoop out loops and another to store them.
Knitting tools
Knitting needles are long, slender pointed rods that may be made of many different materials and come in many styles, lengths and diameters. They have three parts:
The point is the tapered tip you use to make stitches.
The knob is at the other end and prevents the stitches from sliding off.
The shaft connects the point and the knob, and is where you grasp the needle.
The most common knitting needles are made of plastic, metal and bamboo.
Plastic needles are the most affordable. They're less sticky than bamboo and less slippery than metal, but their smooth surface lets your yarn glide easily. Some larger ones are hollow inside to keep the weight down and make them more manageable.
Metal needles are usually made of lightweight aluminum, but you can also find them made from steel, brass and other metals. These are the strongest, most durable needles, and their strength allows them to be made in thinner versions than other materials. Their slick surface lets talented knitters work faster.
Bamboo needles are easy to work with because they have a surface that grips the yarn, keeping your stitches from sliding off the needle. They are soft enough that they are gentle on your hands and joints. They're strong, inexpensive and environmentally friendly.
What is crocheting?
Crocheting is done with one active hand and uses a special hook instead of needles.
Crocheting tools
Crochet hooks have parts:
The shaft is also called the shank, and its diameter determines the size of your stitch.
The grip is where your thumb rests.
The handle is where the rest of your hand rests.
The head is the part you push into existing stitches to retrieve the yarn and pull it through.
The throat is where the yarn is caught when you pull it through the hook.
There are three basic types of crochet hooks. Like knitting needles, they come in different sizes.
Inline crochet hooks are shaped so the hook is carved directly into the shaft, like a notch. They usually have a point at the top to make them easy to insert between tight stitches.
Tapered crochet hooks narrow as the shaft approaches the hook's head and throat. The heads are rounded rather than pointed and are difficult for beginners to work with.
Hybrid crochet hooks combine the best attributes of inline and tapered hooks. The shaft tapers, the throat is deep and the head is pointy.
What kind of things do you like to make?
Are they simple? If you aim to make simple things such as doilies and potholders, you want to crochet. If you plan to make more complex things, you want to knit, because knitters have more techniques and tools to call upon and the stitches are more versatile.
Do they stretch? If you want to make items that stretch, such as sweaters and socks, knitting is for you. If you like to make things that don't stretch, like blankets, crocheting is your best choice.
The bottom line
Most find it easier to learn to crochet than knit, for several reasons.
Tools: Crochet hooks are shorter than knitting needles and easier to handle.
Dexterity: Crocheting requires the use of one active hand while knitting requires the use of two.
Stitches: You need to learn only a few simple stitches to crochet, but must learn far more to knit.
Dropped stitches: Dropped stitches are easily recovered when crocheting and hard to fix when knitting.
Detail: Knitting requires greater detail to produce finished projects, in part because knitting is used to make more complex things.
What you need to buy for knitting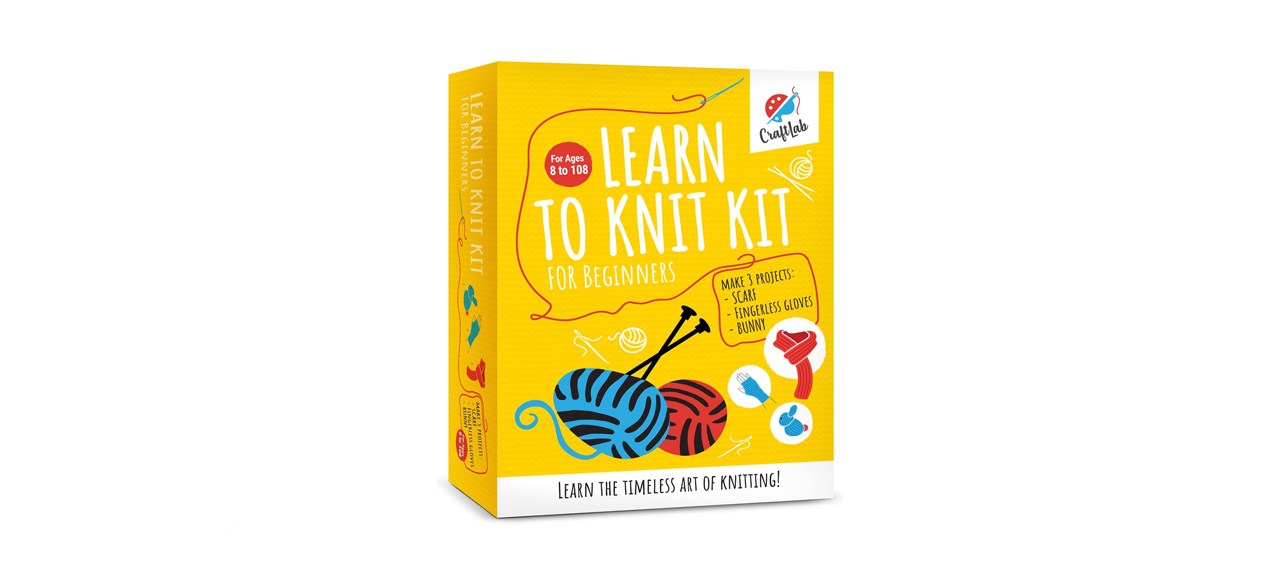 Craftlab Knitting Kit for Beginners
Everything you need to get started is here in this kit. You get wooden needles, four skeins of wool yarn, a tapestry needle and an easy-to-follow instruction book. There is enough here to make a scarf, fingerless gloves and a bunny.
Where to buy: Sold by Amazon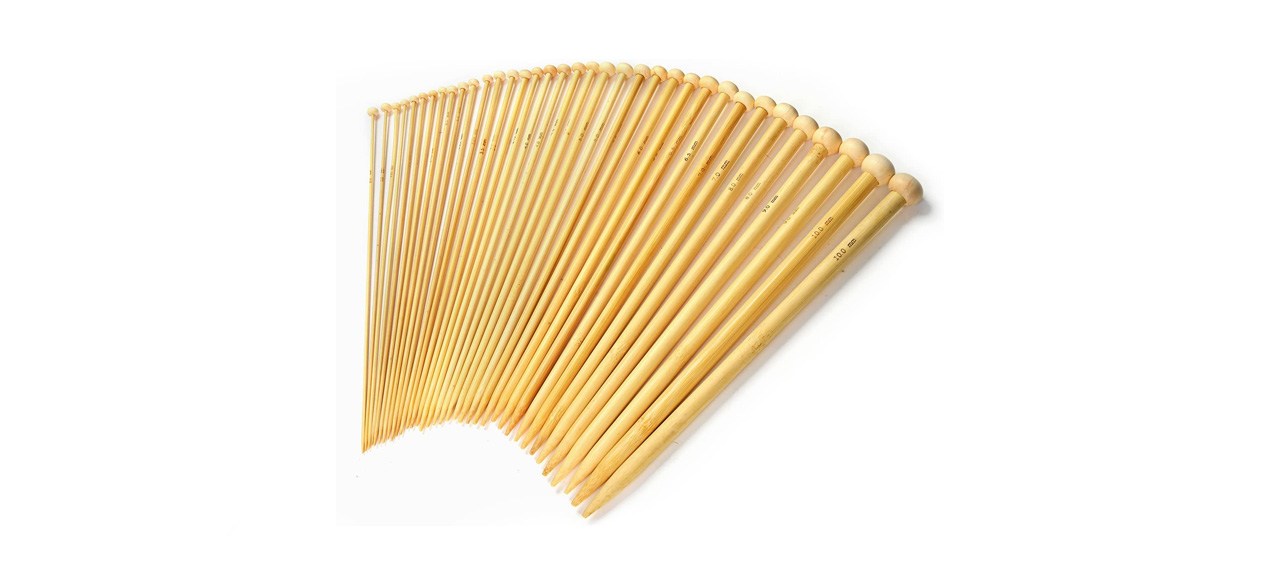 Lihao 36-Piece Bamboo Knitting Needles
You get 18 sizes from 2 to 10 millimeters in diameter, bleached to make the needles stronger, smoother and mildew-proof. This is a great starter set for beginners.
Where to buy: Sold by Amazon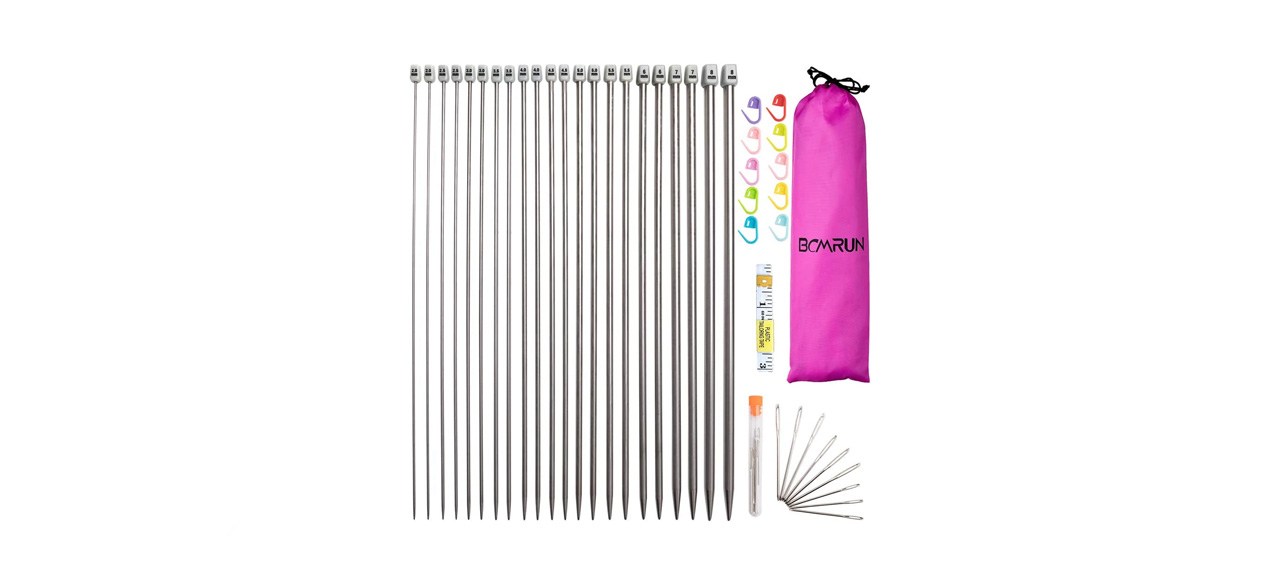 Bcmrun 22-Piece Stainless Steel Knitting Needles
Each of these 11 pairs has a different diameter, the size clearly marked on the knob. These smooth needles let you knit quickly with no snagging or catching.
Where to buy: Sold by Amazon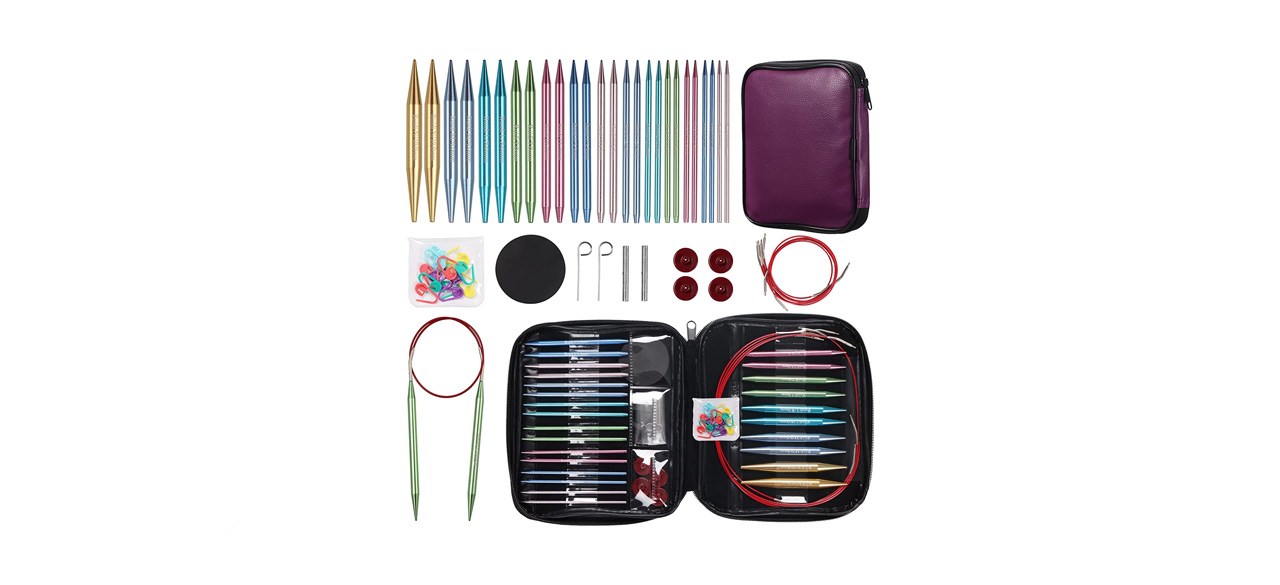 Ruidi 26-Piece Interchangeable Circular Knitting Needles Set
You get 13 sizes of aluminum needles with four tubes that can be connected to any size pair. You also get stitch markers, positioning buttons, a posting tool and a leather bag to carry everything in.
Where to buy: Sold by Amazon
What you need to buy for crocheting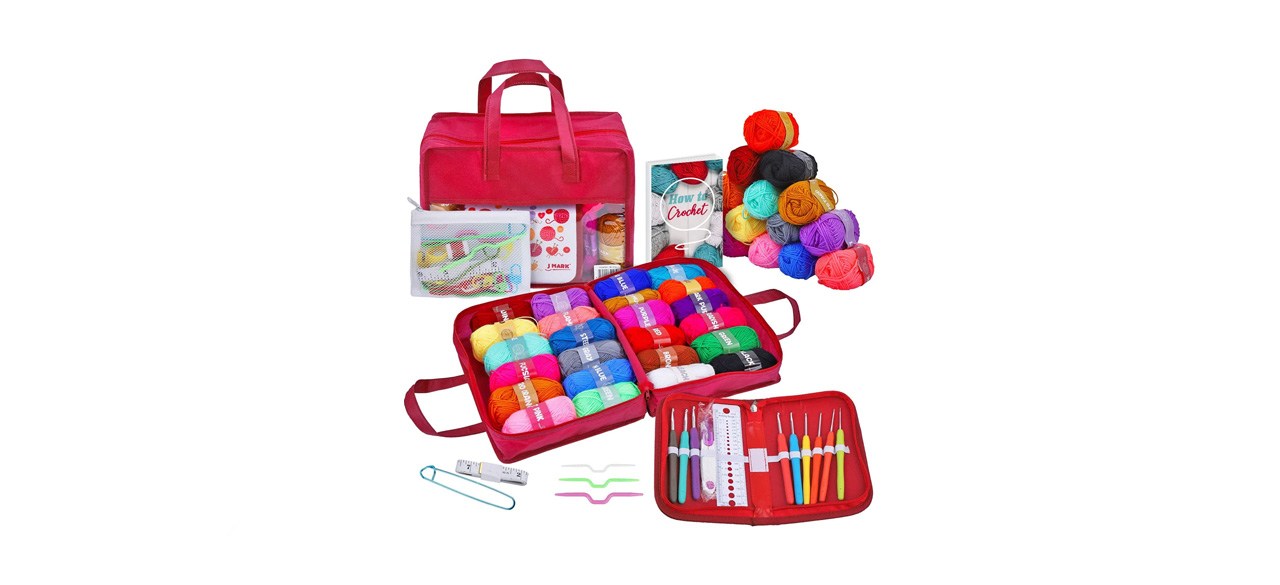 Jmark Crochet Kit for Beginners Premium Bundle
You get nine crochet hooks, six needles and 24 acrylic balls of crochet yarn, each 55 yards long. This starter pack comes with one bag for yarn, a second for your crochet hooks and a third to hold everything.
Where to buy: Sold by Amazon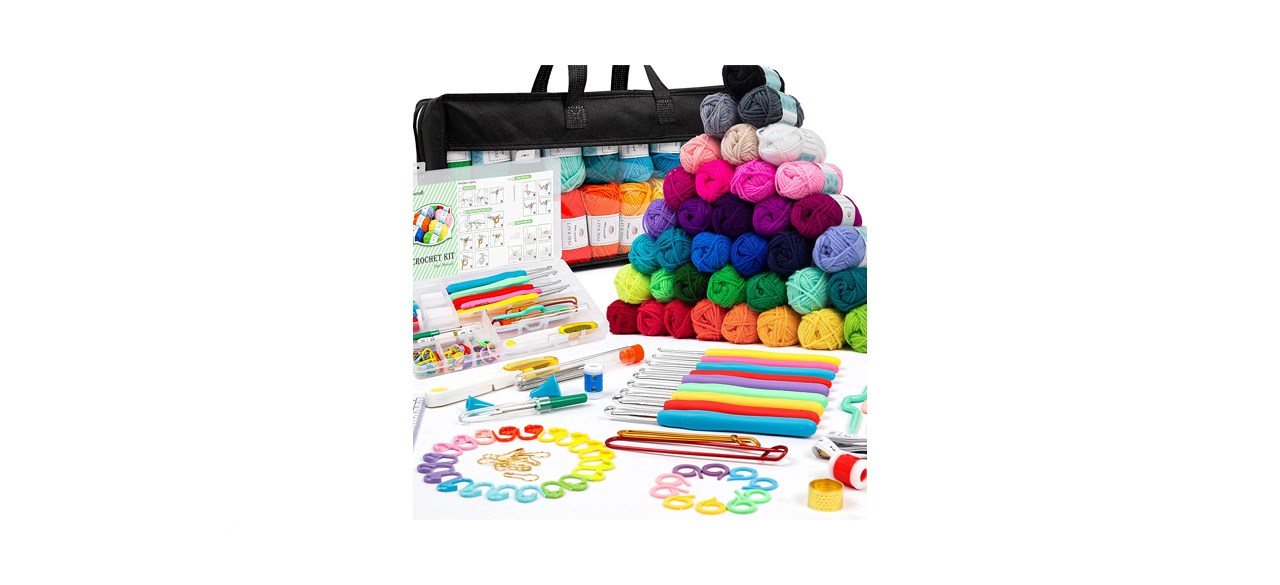 Inscraft 113-Piece Crochet Kit for Beginners
This kit has 40 colors of yarn and a 73-piece crochet hook kit that includes everything you need to crochet, including hooks, needles, scissors, stitch markers and a measuring tape.
Where to buy: Sold by Amazon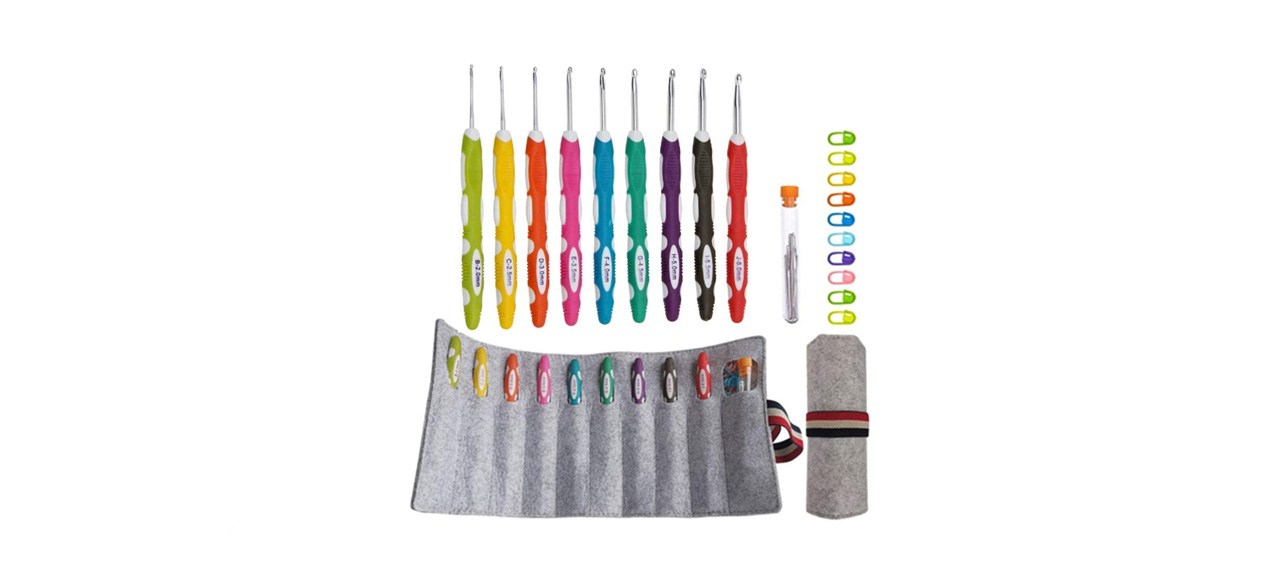 Lewhoo Ergonomic Crochet Hooks Set for Arthritic Hands
These hooks come in a soft felt roll-up bag and are made with longer, wider handles that are easy to grip. The soft silicone non-slip design is perfect for those with arthritis or carpal tunnel syndrome.
Where to buy: Sold by Amazon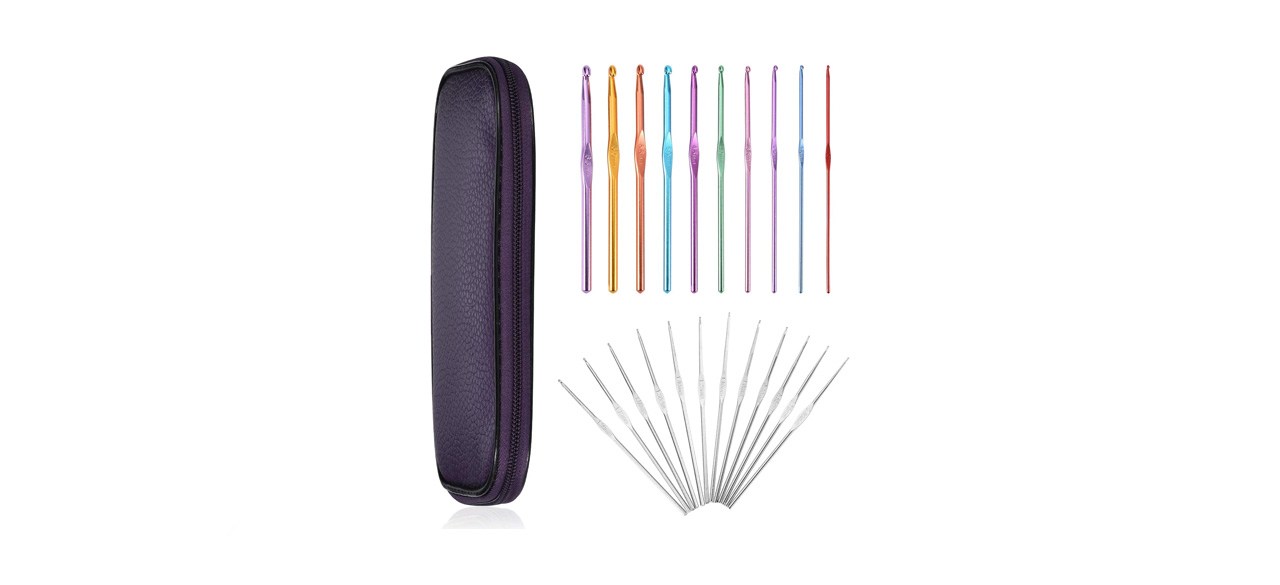 Nulink 22-Piece Crochet Hook and Knitting Needle Set
You get 10 aluminum crochet hooks and a dozen knitting needles, all in different sizes and all fitting nicely in a 5- by 7-inch zippered bag.
Where to buy: Sold by Amazon
Want to shop the best products at the best prices? Check out Daily Deals from BestReviews.
Sign up here to receive the BestReviews weekly newsletter for useful advice on new products and noteworthy deals.
David Allan Van writes for BestReviews. BestReviews has helped millions of consumers simplify their purchasing decisions, saving them time and money.
Copyright 2023 BestReviews, a Nexstar company. All rights reserved.