COTTONWOOD CANYONS, Utah (ABC4) — Multiple agencies are posting travel warnings in the Cottonwood Canyons area for tonight and tomorrow, Apr. 2 and Apr. 3, due to the incoming storm.
Utah Department of Transportation (UDOT) has that both Cottonwood Canyons will experience closures starting tonight. SR-210 will be closed from 10 p.m. tonight until tomorrow morning and SR-190 will close around midnight for avalanche mitigation. Both Little and Big Cottonwood Canyon backcountries will also be closed tonight during the same time period. All closures may be extended depending on winter conditions.
UDOT is also warning of possible closures of SR-190 and SR-210 over the next three days as the department says Upper Cottonwood Canyons could receive as much as 27 inches of snow in the next two days. By Wednesday night, UDOT says snow could exceed three feet in the area.
Alta Ski Area also warned the public on social media of possible extended interlodge conditions at both Alta and Snowbird resorts between today and Wednesday. The town of Alta is also likely to experience interlodge and road closures this week.
In addition to delays and closures, UDOT sent out a warning for winter road conditions throughout the state with the I-15, from Logan to Cedar City, expected to be highly affected.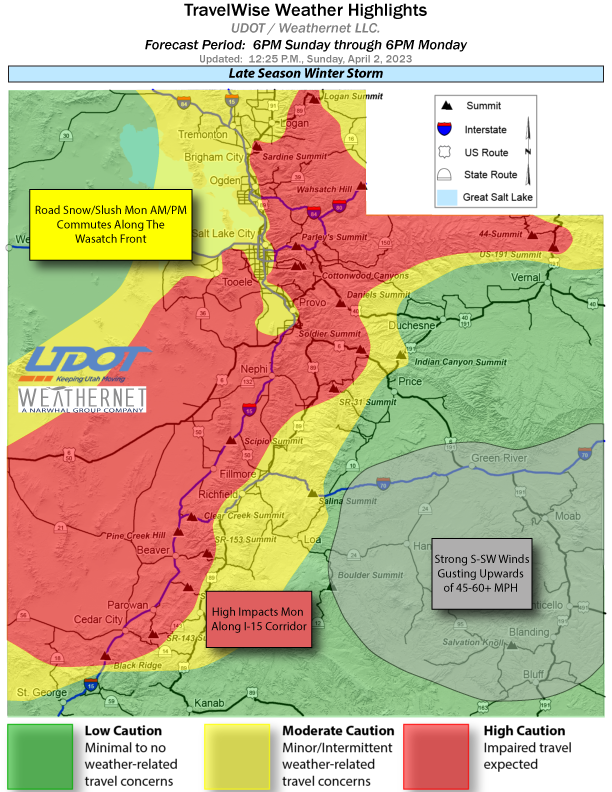 Rocky Mountain Power has also released a statement saying possible power outages may take place in the coming days. The company has crews on standby prepared to respond to outages and requests the public report outages to help them respond as quickly as possible.
To be prepared, UDOT is reminding the public to keep their car stocked with extra food and water, a phone charger, warm clothes, and a full tank of fuel.
In addition, UDOT says to follow winter driving tips of leaving extra space between vehicles, braking early and slowly, not passing snow plows, and driving slowly regardless of what vehicle is being driven.