(ABC4) – September 30 is the last day of a dismal 2021 water year. Utah needed a high snowpack over the winter months, and when it didn't see that, the drought intensified quickly.
Below is information and resources for Utahns about how bad the drought actually is, statewide and local water restrictions, and how individuals can conserve water. The information comes from the U.S. Drought Monitor and the Utah Division of Water Resources.
The story will be updated every Thursday as new statistics become available.
Utah Drought Conditions as of Sept. 30
The U.S. Drought Monitor shows 88% of the state is still in "extreme" or "exceptional" drought as of Sept. 30.
"The 2021 water year set the wrong records, with record-low streamflows and reservoir levels, and record-dry soils," says Brian Steed, executive director of the Department of Natural Resources. "The return of monsoon rains, which were absent the last two years, helped reduce demand on our struggling reservoirs but also caused damaging flooding in some areas. Since about 95% of our water supply comes from snowpack, we need to continue to be vigilant in reducing our water use and planning for future conditions if we have another poor or even average snowpack."
When compared to last year, soil moisture has gone up, and reservoir storage has gone down. Soil moisture at this time last year set a new record low at 24.9%. Soil moisture is currently only slightly below the average. Statewide, reservoir storage on Oct. 1, 2020, was 67%. This week statewide storage is at 47%.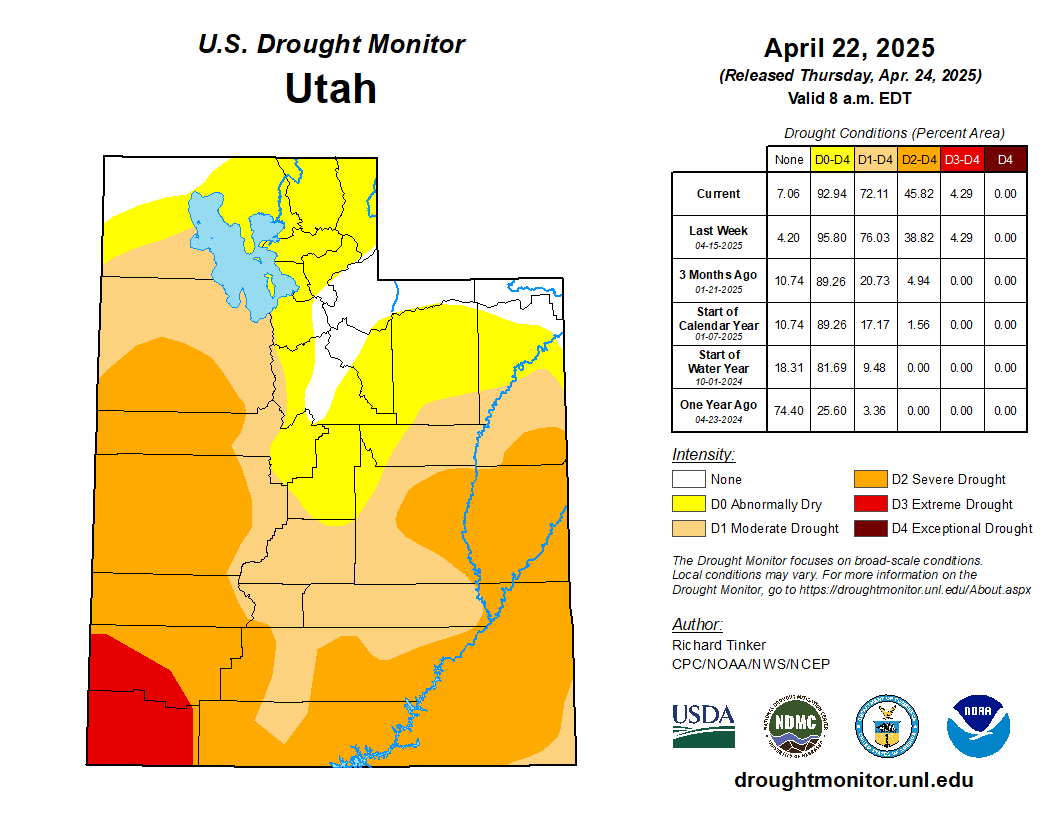 Nationwide Drought Conditions as of Sept. 14
Utah Division of Water Resources' Extreme Drought Watering Guide
The Extreme Drought Watering Guide recently replaced the Weekly Watering Guide to help Utahns focus on "survival watering." The guide will focus on minimal watering in order to keep grass alive while extreme drought conditions exist, the division's site states.
"We used stored water this summer, essentially depleting our reserves," said Utah Department of Natural Resources Executive Director Brian Steed. "It will take wet soils, steady storms and a great snowpack to help make up the water deficit."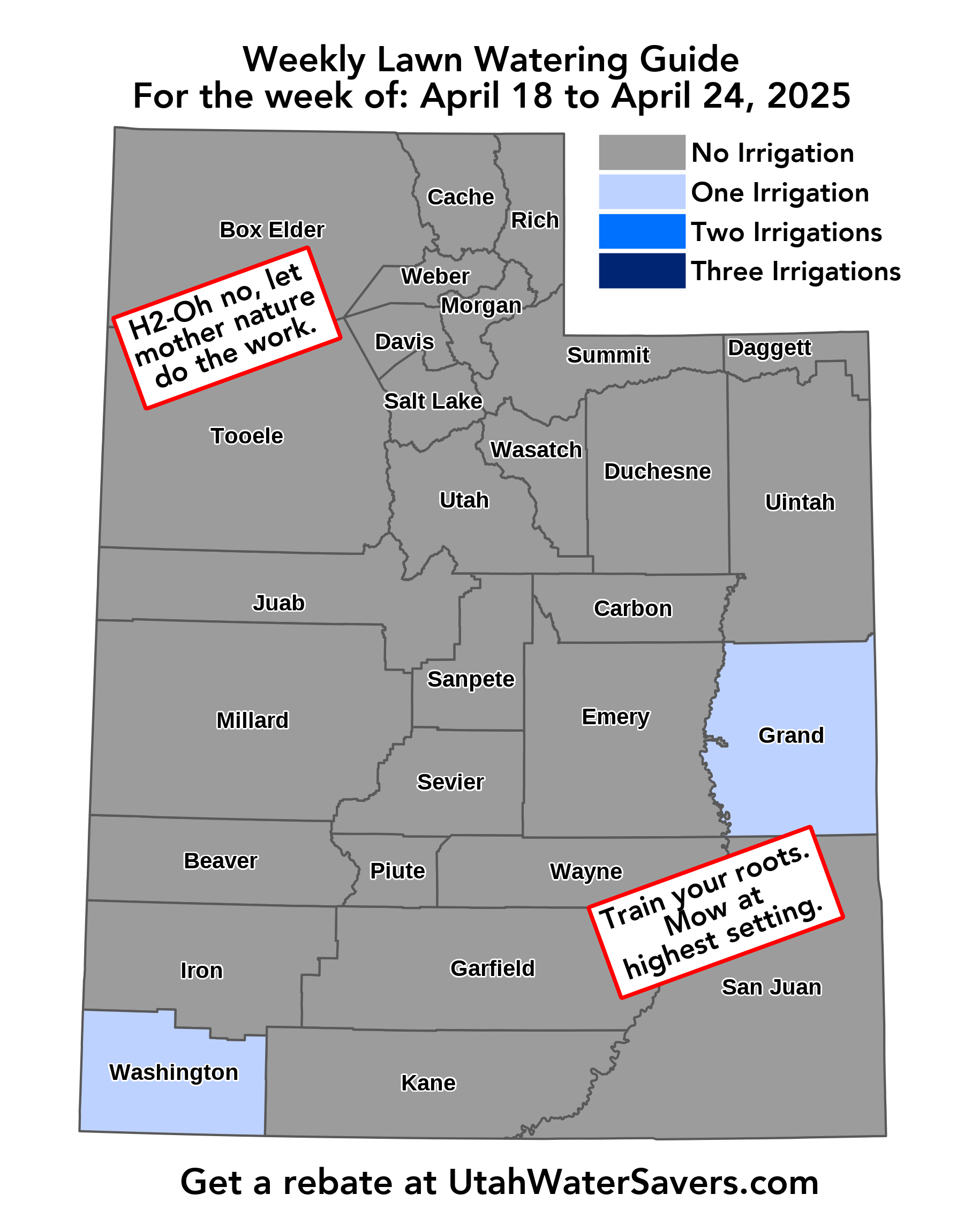 Historically Observed Impacts of Drought in Utah
In the chart below, D0 represents abnormally dry conditions, D1 represents moderate drought, D2 represents severe drought, D3 represents extreme drought, and D4 represents exceptional drought.
Executive Orders
Executive Order 2021-7: Governor Spencer Cox issued an Executive Order declaring a state of emergency because of drought conditions in the state on March 17. The declaration allows drought affected communities, agricultural producers and others begin accessing state and federal emergency relief.
Executive Order 2021-10: On May 3, Gov. Cox issued an executive order prohibiting irrigation at state facilities between 10 a.m. and 6 a.m., requiring state officials to shut off sprinklers during a rain storm, and to make sure watering equipment was working properly. The order also encouraged local governments to adopt their own water restrictions.
Executive Order 2021-13: On May 13, Gov. Spencer Cox issued a new Executive Order declaring a state of emergency due to drought conditions. It continued the state Emergency Operations Plan and Drought Response Plan first activated on March 17.
Executive Order 2021-10: On June 8, Gov. Cox announced a third drought executive order for the state. He prohibited fire works on all state and unincorporated lands and limited lawn watering at some state facilities to two times per week.
Thirty-two of Utah's largest 42 reservoirs are below 55% of available capacity (31 last week, with Jordanelle dropping this week). Overall statewide storage is 47% of capacity, slightly less than last week. This time last year, reservoirs were about 67% of capacity. 
Of the 97 measured streams, 54 flowed below normal this week compared to 53 last week.
Low levels in Utah reservoirs are forcing boat ramp closures, according to the Utah Division of Water Resources. Twelve boat ramps are currently closed at 10 state parks, including:
Willard Bay
Echo
Millsite
Yuba
Piute
Jordanelle
Hyrum
Antelope Island
Rockport
Quail Creek
Keeping an eye on the Great Salt Lake
The Great Salt Lake currently sits at 4,191.1 feet. The Great Salt Lake's southern portion reached a historic low, below 4,190.8 feet due to reduced snowpacks from climate change and upstream water diversions.
What can Utahns do to conserve water?
Marcie McCartney, Water Conservation Manager for the Utah Division of Water Resources, says there are things Utahns can do to conserve water, including watering one less time a week.
She says people can develop the mindset that it's okay for the landscape to be a little brown. In fact, overwatering can have negative effects on the landscape. And watering just one less time per week can save as much as 3,000 gallons of water.
McCartney also recommends using the division's weekly watering guide (included above), which includes tips and tricks for watering effectively. Prioritizing your watering is another way to conserve water, she says. Trees, shrubs, and perennials require more water than turfgrass.
She also recommends getting a smart irrigation controller, which will monitor how much water is needed and shut off a sprinkler system when necessary.
"We need more people to think before they do," McCartney adds. She says it's important to think before lighting a campfire or engaging in target practice. Even before hopping in the shower, people can think about how they are going to save water, she explains.
Resources
Utah Division of Water Resources