GlobeNewswire
Keiretsu Forum Mid-Atlantic Announces President of Philadelphia Chapter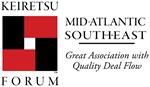 News provided by
Keiretsu Forum Mid-Atlantic
Jan 24, 2023, 8:11 AM ET
PHILADELPHIA, Jan. 24, 2023 (GLOBE NEWSWIRE) -- Keiretsu Forum Mid-Atlantic announces Brian Cain as President of the Philadelphia Chapter. With over 30 years of experience in strategy and analytics within the pharmaceutical and biotech industries, Brian is well-equipped to lead members of the chapter through continued growth.
In 2021, almost 30% of all funded deals within Keiretsu Forum's Mid-Atlantic and South East region originated from within its Life Science silo. Brian will be able to support Chapter members with important insights as part of the Keiretsu Forum Mindshare process.
"Since 2011, Keiretsu Forum Mid-Atlantic Chapters have provided resources, mentoring, and funding to entrepreneurs while delivering accredited investor members with the highest quality deal flow as well as exclusive educational and networking opportunities," says Howard Lubert, Co-Founder. "We are delighted to have Brian Cain take the lead as President in the Philadelphia market."
Additionally, as President, Brian will be responsible for raising Keiretsu Forum's profile while also providing support to angel investors looking to gain access to top-tier deal flow.
"I am passionate about helping entrepreneurs achieve their goals through the power of collaboration," says Brian Cain. "It is my honor to lead the Philadelphia chapter in pursuit of creating pathways to successful investments."
Brian is looking forward to connecting with Chapter members and forging solid bonds within the community. He believes that building these networks will help members continue their respective paths toward success.
If you're an angel investor interested in learning more about how you can get involved with Keiretsu Forum, please visit our website. If you would like to attend our next entrepreneur's pitch Forum meeting, please complete registration here.
About Keiretsu Forum
Keiretsu Forum is a global investment community of accredited private equity angel investors, venture capitalists and corporate/institutional investors. Keiretsu Forum was founded in 2000 by Randy Williams. Keiretsu Forum today is a worldwide network of capital, resources, and deal flow with 50+ chapters on four continents. Keiretsu Forum members invest in high-quality, diverse investment opportunities. To date the 3,000+ Keiretsu members have invested over $900 million in 2,400+ companies.
Media Contact: Cindi Sutera, 610-613-2773 or cindis@amscommunications.net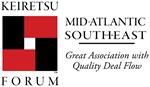 For inquiries or corrections to Press Releases, please reach out to GlobeNewswire.