EIN Presswire | Newsmatics
Scripophily: The Art of Collecting Stock and Bond Certificates Excites Collectors Around the World
News provided by
EIN Presswire
Feb 27, 2023, 6:00 AM ET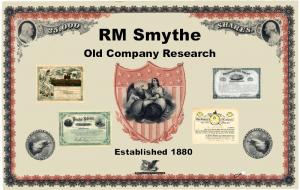 RM Smythe Since 1880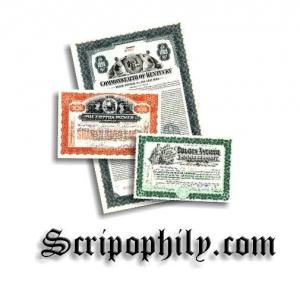 Scripophily - The Gift of History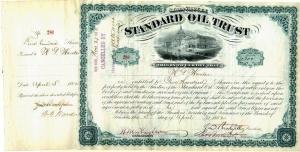 Standard Oil Trust Stock Certificate signed by John D. Rockefeller
Scripophily: The Art of Collecting Stock and Bond Certificates Excites Collectors Around the World
Collecting Stock and Bond Certificates is extremely rewarding especially during times of stock market turmoil and rising inflation"
— Bob Kerstein, Founder Scripophily.com
FAIRFAX, VA, UNITED STATES, February 27, 2023 /EINPresswire.com/ -- Scripophily.com® / RM Smythe, the Internet's largest buyer and seller of collectible stock and bond certificates is attracting collectors from around the world. The expanded website contains a streamlined design with an easy-to-use interface, and a wealth of information for those who are seeking information about old companies and stock certificates.
The highly secured website offers over 10,000 items for sale and is also the world's leading provider of Old Stock and Bond Research Services in determining both redeemable worth as a financial security and collectible value in the hobby of Scripophily. Old Stock Certificates may have value and should be researched for value before they are discarded.
Scripophily (scrip-ah-fil-ly), the hobby of collecting stock and bond certificates, is becoming increasingly popular as more people recognize the historical, cultural, and artistic value of these fascinating pieces of paper. The word "scripophily" is derived from the Greek words "scrip" meaning "writing" and "philos" meaning "love." It refers to the hobby of collecting and studying old stock and bond certificates that were issued by companies, governments, and other organizations in the past.
Certificate values range from a few dollars to more than $500,000 for the most unique and rare items. Tens of thousands of Scripophily buyers worldwide include casual collectors, corporate archives, business executives, museums and serious collectors. Due to the computer age, more and more stock and bonds are issued electronically which means fewer paper certificates are being issued. As a result, demand for paper certificates is increasing while supply is decreasing.
Scripophily enthusiasts enjoy collecting these historical documents not just for their monetary value but also for the artistic and aesthetic qualities of the certificates themselves. Many certificates feature intricate designs, colorful artwork, and elaborate engravings that showcase the unique style and craftsmanship of the era in which they were created. Scripophily is also a fascinating way to learn about history, business, and economics. By studying the certificates and researching the companies and organizations that issued them, collectors can gain a deeper understanding of the people, events, and social trends that shaped the past.
Today, Scripophily is a growing industry with many specialized dealers and online marketplaces catering to collectors. With thousands of old certificates still in existence, there are plenty of opportunities to build a collection of your own and join this exciting hobby.
Stock certificates are collected and given as gifts because of their historical significance, beauty and artwork, autographs, notoriety, as well as many other factors. The supply of new certificates reaching the collector market has been substantially reduced due to changes in state laws and stock exchanges rules. Many companies are no longer required to issue physical stock and bond certificates, a process called "dematerialization."
Scripophily.com - The Gift of History is the Internet's leading buyer and seller of collectible stock and bond certificates and has items on loan for display in the Smithsonian's Museum of Financial History in New York. Our company has been featured on CNBC, USA Today, Associated Press, Reuters, Nightline, Today Show, Baltimore Sun, and Washington Post and in many other media publications. The company also offers the World's #1 old stock research service at OldCompany.com and offers high resolution scans for publications.
Scripophily.com /Old Company Research Service, founding member of the Old Stock Exchange, is the successor company to all material published by the Marvyn Scudders Manuals, the Robert D. Fisher Manuals, R.M. Smythe Stock Research Service, and the Herzog & Co., Inc. obsolete research services.
To learn more about Scripophily and its rich history, visit our website at Scripophily.com. We offer a wealth of information and resources for collectors of all levels, including news, articles, and a comprehensive directory of dealers and marketplaces. Join us in celebrating the art and history of Scripophily.
American Stock and Bond Collectors (https://scripophilyusa.org) and the International Bond and Share Society (https://scripophily.org) are also terrific resources for information on Scripophily.
For more information on Scripophily.com®, visit https://www.scripophily.com, https://www.oldcompany.com, https://www.scripophily.net, https://www.rmsmythe.com, https://scripophily.org/, and https://scripophilyusa.org or call 1-703-787-3552. Ask for Bob.
Bob Kerstein
Scripophily.com
+1 703-787-3552
email us here
Visit us on social media:
Facebook
Twitter
LinkedIn
Stock Certificate Garage Sale Find: $130 Million in Coke Stock?
NOTE: This content is not written by or endorsed by "KTVX", its advertisers, or Nexstar Media Inc.
For inquiries or corrections to Press Releases, please reach out to EIN Presswire.