EIN Presswire | Newsmatics
21st Annual International Stock & Bond Certificate, Scripophily and Ephemera Show - JANUARY 27-28,2023 Herndon, Virginia
News provided by
EIN Presswire
Jan 05, 2023, 3:20 PM ET
IBSS Apple

John. D. Rockefeller, Henry M. Flagler, and Jabez Abel Bostwick Signatures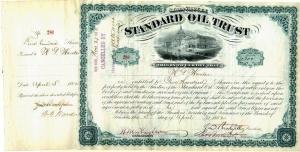 Standard Oil Trust Stock Certificate signed by John D. Rockefeller
The show offers Thousands of Historical Stock Certificates, Postcards, Americana, & Ephemera. The show is Sponsored by the International Bond and Share Society.
This is the Best Scripophily Stock and Bond Show of the Year."
— Bob Kerstein, Founder Scripophily.com
HERNDON, VIRGINIA, UNITED STATES, January 5, 2023 /EINPresswire.com/ -- The 21st Annual International Stock and Bond Show in Herndon, Virginia will have thousands of historical and artistic stock and bond certificates, autographs, paper money, coins, Libert Loan Bonds, Savings Bonds, old documents, and much more. The show will have dealers from all over the world and is always one of the best stock and bond shows. The show is managed by the world famous, Bob Schell.
The location of the show is the Crowne Plaza Hotel near Dulles Airport at 2200 Centerville Road and located just 21 miles from Washington DC (call 800-227-6963). The show starts on Friday, January 27th to Saturday, January 28th, 2020. The show hours are from 9am to 6pm on Friday and from 9am to 4pm on Saturday.
Dealers attending the show will include Bob Kerstein CPA -Scripophily.com / OldCompany.com /RM-Smythe.com, Chris LaBarre -George LaBarre Galleries, Tom Lareau, Ted Robinson -Frost & Robinson, Bob Schell -Bob Schell Enterprises, Larry Schuffman, Bob Schwartz -Archives International, David Strebe -Paper Collectibles, Scott Winslow -Scott J, Winslow & Associates, Larry Falater, Hollins Certificates, Inc. and others.
Bob Kerstein of OldCompany.com/ RM Smythe Stock Research Service will once again be offering a free old stock certificate research services ($49.95 Value) to anyone who brings in a certificate to his booth and wants to know what happened to the company. In addition, He will also be offering free assessments of stock and bond certificates as to their collectability and value. Bob is always looking to buy quality stock and bond certificates.
The International Bond & Share Society will be represented by Chairman/Marketing/Deputy Webmaster – Martin Zanke, USA Chapter, President & Treasurer – Max D. Hensley, Public Relations Director – Bob Kerstein, Webmaster – Tim Welo, and Membership Secretary, Robin Majlak.
The International Bond & Share Society https://scripophily.org/ (IBSS for short) is an association of people interested in scripophily. The society was founded in 1978 as a non-profit organization with the aim to promote, encourage and develop all aspects of scripophily. The IBSS has members all over the world and is funded exclusively by the members. The society publishes the Scripophily Magazine three times a year
The Society is led by volunteers for the benefit of its Members, who have a mutual interest in educating, collecting and sharing information of bond, stock and share certificates and company histories. The Society shall provide a platform to interact with the academic community, museums, members and the general public to share the knowledge and history of these financial documents. The Society welcomes new and old collectors in its efforts to promote the hobby of scripophily for generations to come.
You can join the IBSS at Membership or sign up at the show.
*Membership includes access to all of the online resources available to members only: an online forum with collectors and dealers where you can contact experts to answer questions about your old stocks and bonds and build relationships, see galleries of rare and beautiful scripophily pieces, and news about the society.
*Subscription to our "SCRIPOPHILY" magazine with free ads for collectors (3 issues per year).
*A paper directory of scripophily dealers and collectors.
*Information about auctions and scripophily websites.
*Contact information with professional old stock certificate research services to determine if your certificates have redeemable value.
*Online and print opportunities for publishing your favorite scripophily subjects.
*Most importantly, making connections with other people who share your interests.
Your membership in the IBSS will greatly enhance your enjoyment of the hobby. The IBSS website is located at http://www.scripophily.org. The 1 year membership fee is $35 https://scripophily.org/membership/join/
Scripophily (scrip-ah-fil-ly) is the name of the hobby of collecting old stock and bond certificates. Certificate values range from a few dollars to more than $500,000 for the most unique and rare items. Tens of thousands of scripophily buyers worldwide include casual collectors, corporate archives, business executives, museums and serious collectors. Due to the computer age, more and more stock and bonds are issued electronically which means fewer paper certificates are being issued. As a result, demand for paper certificates is increasing while supply is decreasing.
Scripophily.com and Bob Kerstein has had items on loan for display in museums around the world. Scripophily has been featured on Bloomberg, Fairfax Times, CNBC, USA Today, Associated Press, Reuters, Nightline, Today Show, Baltimore Sun, and Washington Post and in many other media publications.
For more information on Scripophily please visit https://www.scripophily.com, https://scripophily.org, https://www.oldcompany.com, https://www.scripophily.net, https://rm-smythe.com, www.rsshell.com. or call 1-703-787-3552
# # #
Bob Kerstein
Scripophily.com
+1 703-787-3552
email us here
Stock Certificate Garage Sale Find: $130 Million in Coke Stock? Inside Edition with Bob Kerstein
NOTE: This content is not written by or endorsed by "KTVX", its advertisers, or Nexstar Media Inc.
For inquiries or corrections to Press Releases, please reach out to EIN Presswire.